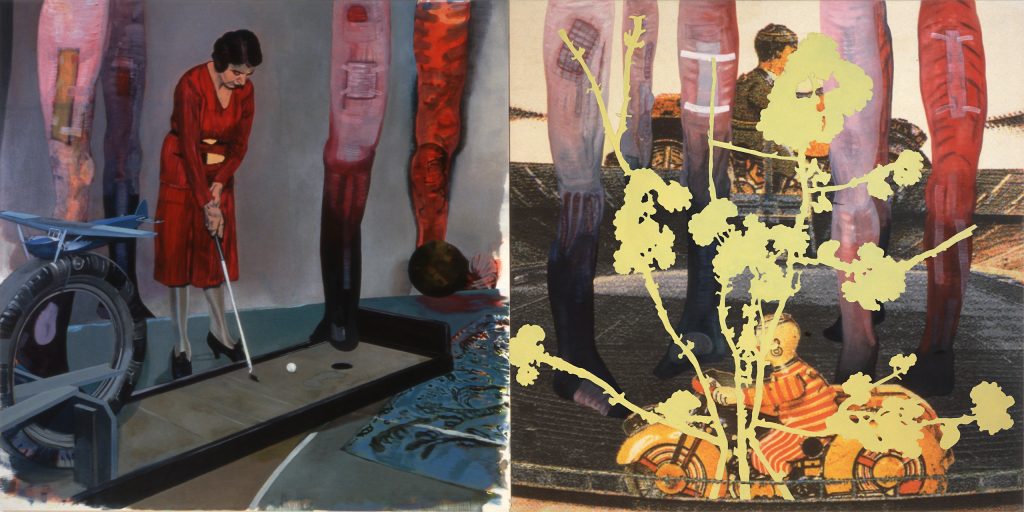 10. Midget Golf, 1997-2004
Ball games reflect specific segments of society; from playing miniature golf, sponsored by KLM in the Netherlands, to being a spectator on the stage of an international sports arena in Berlin, Germany.
A well-dressed woman attentively applies herself to a miniature putting game. She has overcome the artificial obstacle presented by the airplane attached to an automobile tire. Four kinds of suspended injured legs populate the scene. They are all presented with bandages or signs of medical intervention. The leg showing an unknown portrait is engaged in propelling a brown football. In the lower right-hand corner a blue carpet showing flowers covers the floor.
The carpet's decoration echoes the graphic, flat silhouette of the geraniums to the right and formally follows the shape of a stadium, in this case the 1936 Olympic Stadium in Berlin where Nazi Germany promoted an image of a new, strong and united Germany. The Nazis used the 1936 Olympics for propaganda purposes to mask their growing militarism and the regime's targeting of Jews and Roma (Gypsies).
Again we find hanging legs but this time centrally located in the stadium. Behind and in front of the suspended legs are two illustrations representing one uniformed cyclist and another in a striped outfit riding around the arena clockwise; one on the inside, one on the outside.