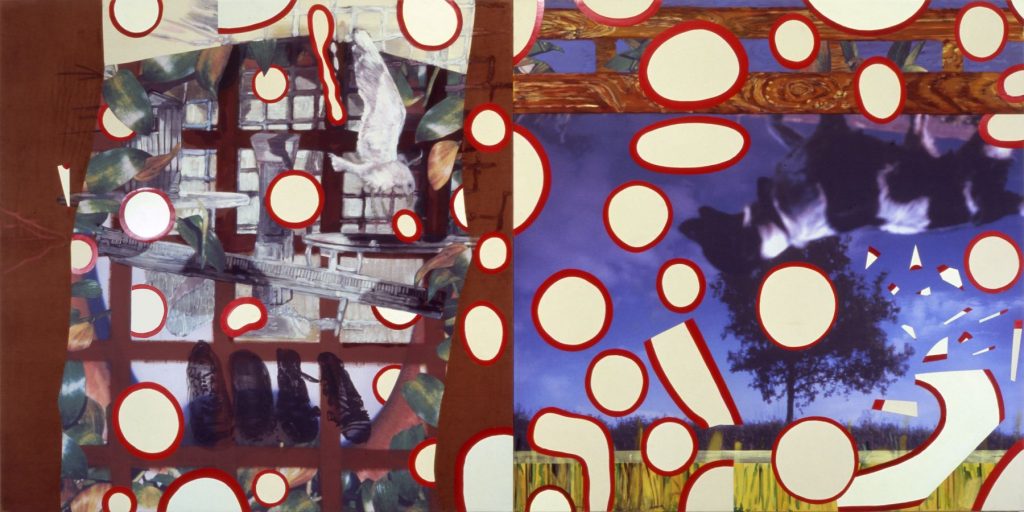 12. Flipping in the Betuwe, 2004
The Betuwe, part of the Dutch Bible Belt, is a region in the middle of the country that is known for its horticulture and fruits such as apples, pears and cherries. The soil is considered amongst the best in the Netherlands because numerous rivers surround the Betuwe. 'Flipping' refers to Flipje, a fictional character from 1935, a paragon of middle class decency that served as a mascot to jam factory De Betuwe in Tiel, one of the larger cities in the region.
Flipping is also a reference to a more contemporary situation found around the Dutch countryside where youngsters consume large quantities of alcohol and drugs in abandoned barns and mobile homes on private property. This way they can exhibit unrestricted and out of control behavior even to the point of freaking out.
On the right panel the world is turned upside down, the tree is a reflection in the water; the dog and fence hang upside down. Together with the sharply cut grass, assisted by the color and what is printed or painted, the image reads like a single frame out of a video sequence.
On the left you find an assembled canvas with brown corduroy sides. The 'toilet' print from the 4th Diptych The Balcony serves as a center piece to a chaotic stage where several layers of images create a kind of psychedelic trip. The unbalanced scales decide whether you experience an ultimate high or low. Shoes have already been pushed aside.
At every level we have the white forms with red outlines scattered about, spotlighting the bloodless remains of the notorious and innocent Flipje.