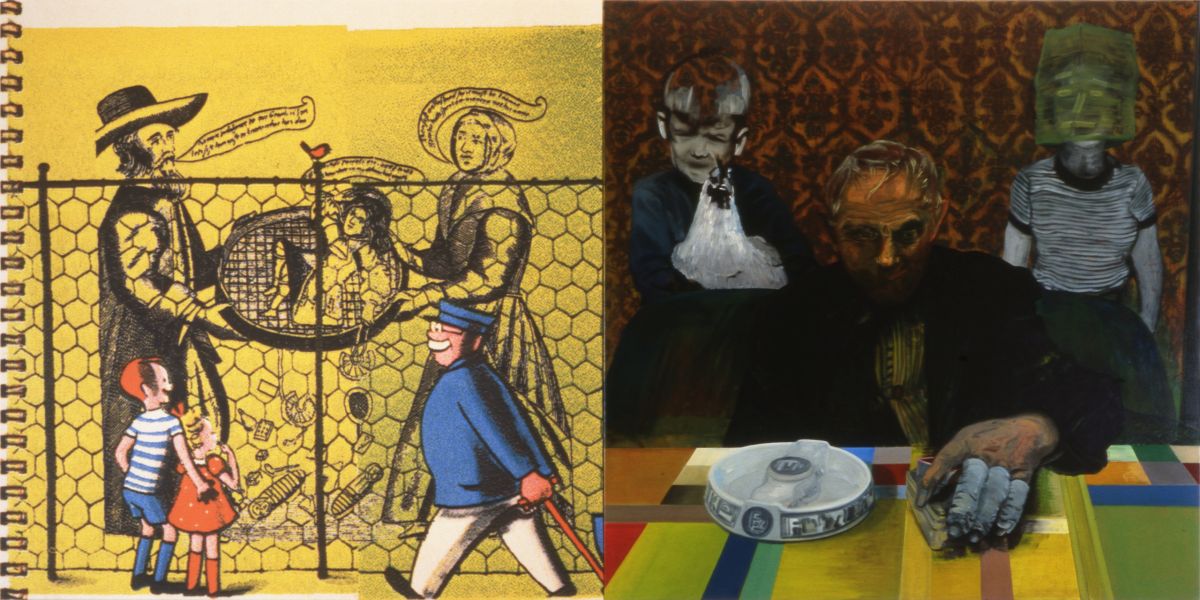 2. Familiar, 1997
An average family of four is still considered the cornerstone of Dutch society.
Illustrated on the left are two 17th century parents who have placed their prodigal son in a wicker basket to sift through his possessions and who discover what kind of frivolous paraphernalia he has spent their hard-earned money on. They appear behind a fence where two children and the caretaker of a zoo are viewing the scene. These three characters are taken from a children's book called Feed the Animals by H.A. Rey, which was first published in 1942.
Remarkably enough the two children are visiting the zoo by themselves without their parents. Their position emphasizes a different attitude towards raising and educating children in the 20th century.
The canvas to the right shows a trio of characters. In the center an old man is seated on a dark couch, seemingly concentrating intensely, grasping a packet of cigarettes with his damaged and painful bandaged fingers. In front of him there is a large ashtray on a multicolored table cloth. Behind him are two children, and a wall covered with a stylized medallion motif serves as a backdrop. On the left a boy in a blue shirt petting a white rooster. The wallpaper\'s motif replaces the blond tresses where the top part of his blond coiffure is rendered invisible. To his right is another youth, in a striped shirt, with what looks like a semi-transparent paper bag over his head. 
According to the artist this work is probably the most autobiographical of all the 32 diptychs. On the left is Michel Smit, the artist's older brother, who was the only one in the family courageous or fearless enough to pick up the rooster. The other child is his younger brother René, represented with a bag over his head because he must have felt kind of invisible next to his older brother, even with a set of oranges under his shirt.