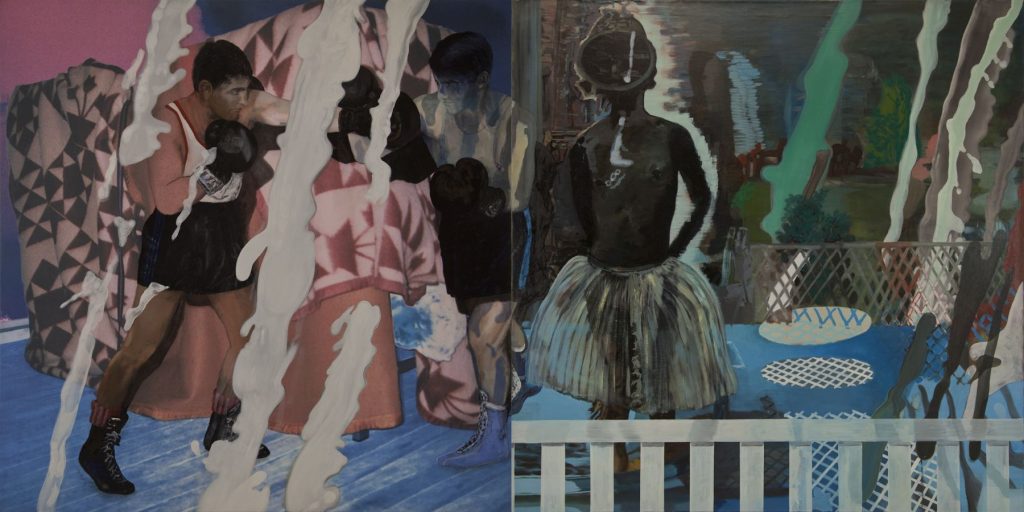 21. Milky Way, 2004  
Preparation for life comes in many different forms in different times and is individually perceived.
The artist's son has built a house out of a double bed by putting blankets over the top of it. Somehow children can transform an unfamiliar place into their home in no time. Two young men, perhaps brothers, hold a boxing match as part of their daily training routine. The formal connection to the other canvas is not only made by the one boxer and the blue-colored floorboards but by the sprays of spilt milk as well.
Smit's older brother at the age of 6 wears goggles and a tutu while standing behind a solid white railing. As always he is prepared for anything. The blue floor in the limelight with a barrier in the back resembles a balcony that echoes the atmosphere of a boxing ring, commonly referred to as a 'squared circle', slightly elevated above its surroundings. What looks like a spacious garden or public park provides a little air to the scene.
The wasted milk in this picture originates from an article in the newspaper about the overproduction of milk for which farmers were fined by the government. To wriggle out of it they started spreading the surplus of milk across the fields. In the late 60s and 70s every Dutch child drank a minimum of 3 glasses of milk a day. There was even a character, Joris Driepinter, for the promotion of milk. Today it is said that you should not drink a lot of milk after the age of 4. Since 2015 the milk production is related to EU targets on phosphate production, which is a major component of animal manure.